IGB Consulting has worked with more than 30 clients and 20 partners in five countries since 2009, delivering exceptional outcomes in the fields of consulting, research, and feasibility study services to create a sustainable society, cleaner environment, and, eventually, a better place to live.
Our client's top priority is our top priority. We provide customized, high-standard professional services to our clients and aim to surpass their expectations. We communicate with our clients to understand and fulfill what they  really want and need.
Our consulting service focuses on our client's social value and performance: sustainable and global development, environmental conservation, and information & communication technology.
We work on enhancing our client's good will and business value using our trained, practical expertise to grasp a holistic and sustainable perspective of the organization. Our ultimate goal is to help our client realize better social value and economic growth.
ICT Strategy
ICT has been a strategic tool for the competitiveness of the companies and governments as well. Strategic alignment of ICT with business goals is one of the most urgent subjects top managements of the organization are always looking for. IGB is providing the clients with customized solutions with which the clients can implement ICT efficiently and effectively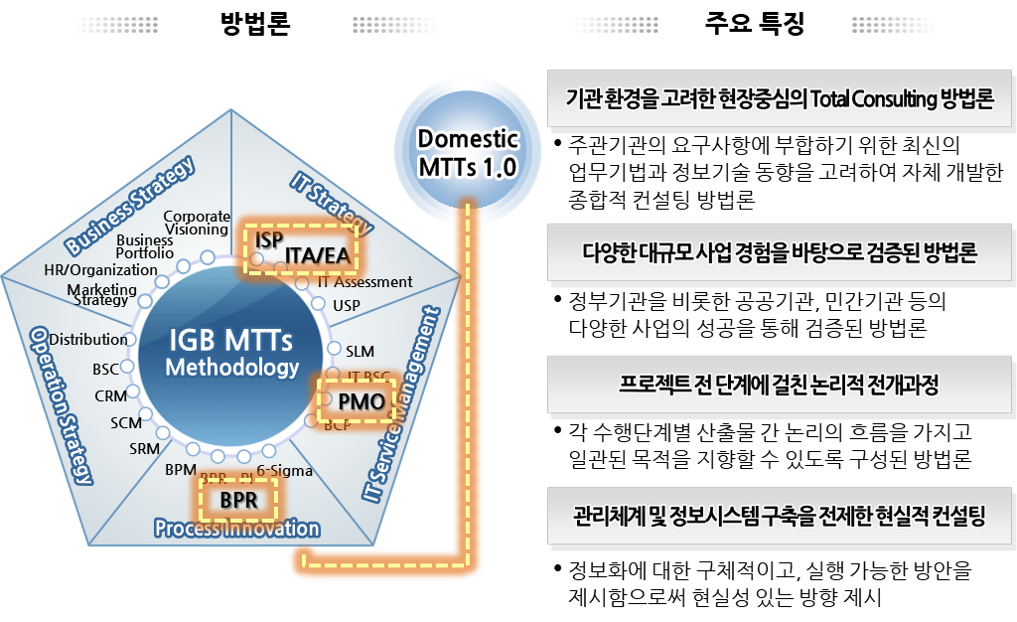 BPR(Business Process Re-engineering)
Everything is changing. Business environments surrounding organizations are always changing and internal systems should also be changing with response to them. Lack of readiness for the changes could cause organizations lag behind the competitors and expectations from their customers or citizen. IGB has many experiences of implementing BPR services for the clients from public and private sectors. From the strategy and visions to the operational processes of the clients, we diagnose current situations and find appropriate solutions for the success of the client.
e-Government Strategy
Delivering strategies and plans for advanced e-government systems in developing countries
Mobile Broadband Strategy
Empowering the government's mobile broadband policy & strategy with our leading experts who have experience working in South Korea's world-class mobile broadband industry
Global Green Partnership for Supply Chain Management (SCM)
Enabling efficient energy management across global partners conducting energy audit and developing energy management systems
[More]
Sustainable Development
Ensuring that our clients can manage their businesses from a more long-term perspective and implement Corporate Social Responsibility (CSR) and Creating Shared Value (CSV) in their practices
Our research service is unlike traditional market & industry research. In order to perform research-based consulting, we put our best efforts together to provide fully customized, data-driven insights and results using best practices that cater to our clients' specific business challenges.
We pursue research-based consulting rather than simple research. Our knowledge and insight allow us to uncover the root essence of the challenge, while our techniques and information are the tools that help us proceed to problem solving. We believe that good research is a necessary precondition of good consulting.
Renewable Energy Demand Creation Research
Renewable energy will play an important role in our future. Our research focuses not only on domestic demand but also on demands in foreign countries such as India and China
International Development
We conduct in-depth research using our experts' experience and know-how in Global Development Cooperation and Official Development Assistance (ODA) consulting
Feasibility Study is the best tool for minimizing high risks in large-scale projects using minimum cost. Large-scale ICT & Energy/Environment projects usually require large sums of money as well as long periods of time. There are two purposes for conducting a Feasibility Study. First, as you can tell from the name, a Feasibility Study is used to verify the feasibilities of projects. We conduct on-site surveys considering the context of each project, including its requirements for success, the scope of the project, time span, and available resources. Afterwards, we conduct interviews with stakeholders and produce a resource analysis, finally drawing the conclusion on the project's feasibility and probability of  success.
Second, to determine what the requirements for success are, a clear outlook and necessary resources are required to complete the project. Once the feasibility is determined, our clients set out to complete the project both efficiently and effectively. We show them the best way to completion, providing them with the right direction and guiding them throughout.
ICT & e-Government
We have focused on conducting Feasibility Studies of e-governments and ICT development in low-income and developing countries in particular.
Renewable Energy
Renewable energy has come to play an integral role in the energy industry.